Turbobeard.com is supported by its readers. When you purchase through links on our site, we may earn an affiliate commission. Also, as an Amazon affiliate, we earn from qualifying purchases.
A well-groomed beard is the perfect first impression but, barbers are not cheap these days, and then you have to make the reservations as well, which is kind of a hassle.
So, it is better to trim and shape your beard at home. Don't panic; I know that you are unaware of the process of shaping your beard, and that is why I am here to guide you through the process.
When shaping the beard at home, make sure to define the neckline and cheek line because they can make or break the beard's shape. It is also important to shape the beard according to the face shape and use just the right tools.
So, are you anxious to know what the ultimate guide to shaping your beard at home is? Keep reading because you are in for a treat.
Step By Step Guide For Shaping Beard At Home
Shaping a beard can be easy and difficult at the same time, and it all depends upon which steps are you following for shaping your beard at home.
All of the below-given steps are really detailed and particularly designed to make it easier for you to shape your beard from the comfort of your home.
1.     Pick A Trimmer
There are tens of trimmers available in the market that are efficient and very convenient for usage at home.
All you need to do is just look for those trimmers and then get them. If you already have a trimmer, make sure that it works perfectly.
Also, it should be sharp enough to give you a snatched neckline; otherwise, what is the purpose of having a trimmer?
Also, make sure that the trimmer has some additional attachments because those attachments also help a lot in shaping your beard.
If you are a little tight on budget, go for the dupes of high-end trimmers that are readily available in the market and are just as good as the original ones.
But, if you don't mind investing in a good-quality trimmer, then get yourself one of those high-end and durable trimmers that last for several years.
Philips Norelco Multigroom Series 7000

Braun Beard Trimmer BT5265

A premium trimmer. Used by many barbers.

Too many accessories. Good starter trimmer due to the manual guards.

Comes with razor as a bonus. Easy dial for precision trimming.
2.     Brush It All Up
It is yet another critical step so, make sure to brush your beard before going on with the shaping process.
When you brush your beard, it becomes a little more sorted and is not scattered all over the place, and if you are a beginner at-home shaving, this can help a lot.
If you don't have a specialized beard brush, a normal one will do the deed, too but just make sure to brush it properly.
There should not be any knots in your beard if it is longer because otherwise, you might lose the complete patches of your beard.
Brushing the beard before shaping it at home will also stimulate blood circulation, and you can shape your beard in a better way after it is all brushed up and ready.
| | | | |
| --- | --- | --- | --- |
| | | | |
| ZilberHaar – Stiff Boar Bristles Brush | | | Superb quality. Can be used with all type of beards. Very good at distributing beard oil throughout your beard. A must have in every mans drawer. |
| | | | A great wooden comb. Especially good for you guys on the go. Have one fine teethed and one coarse side. Should always be in your pocket. |
| | | | Round wooden beard brush, that should always be in your travelling bag. It comes in a metal casing, which makes it ideal for travelling. A must have on the trip. |
3.     Pick The Shape
Now, this is the tricky part of shaping your beard. You have to decide in this part that whether you will just roughly trim the beard or will go all-in with reshaping your beard.
When picking the shape of a beard, make sure to consider the shape of your face; otherwise, the beard won't suit, and you will regret shaping it at home.
The beard shape you are going for should balance out the shape of your face, which is the very reason round-faced people keep a long goatee.
For example, if you have a round face, you want to balance your face, and for that, you would want it to look longer.
So, you simply grow a thick and long goatee that not only makes your face look longer but also hides the extra fat in your neck area.
So, picking the shape and style of your beard is very easy and crucial. Once you are done with picking up, the other steps are merely technical.
The shape of your beard also depends upon its thickness. It will be shaped that way if you just have stubble, and a long beard will also be shaped accordingly.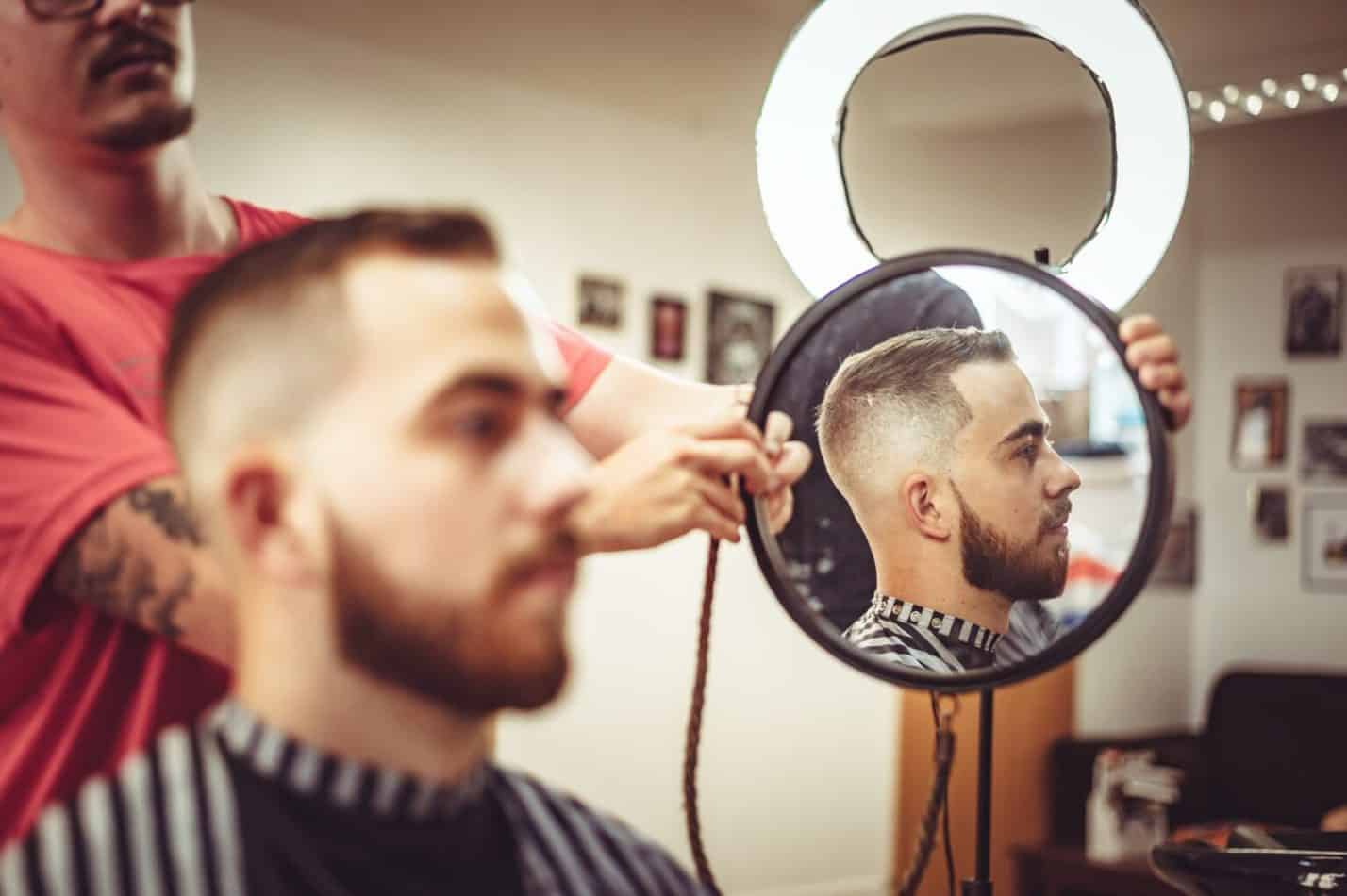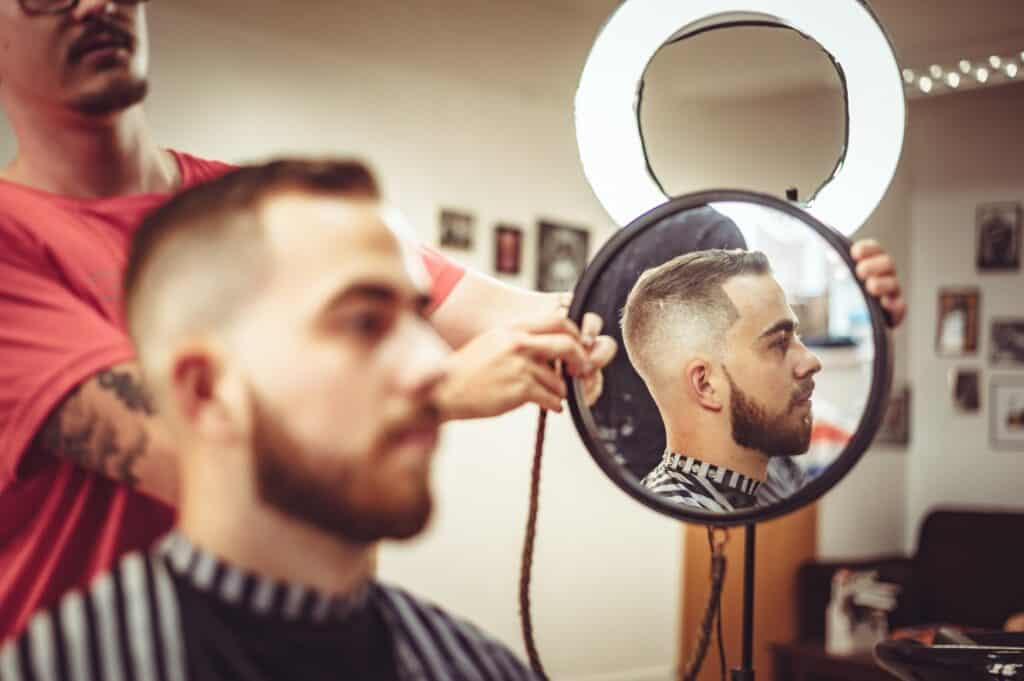 4.     Start With The Neck
Remember this rule of thumb: whenever you shape your beard at home, start with the neckline.
You don't want to make a neckline way too low so, the ideal neckline is just above your Adam's apple.
You can even mark that place with a marker above your Adam's apple to be on the safe side or just mark it with the trimmer to save some time.
Make sure that the mark you are making with the trimmer is at the center of your neck because we will go right and left from this mark.
Now, steady up your hand and take the trimmer from the center to the left. Then, from the center to the right. Make sure that the trimmer makes a curvy line.
Using the trimmer properly is very important at this step, so just put the flat surface of your trimmer on the neck and start it off in an upward motion.
You will be able to see a clear and curvy line in no time because of this upward trimming technique, so don't forget to apply it.
Our purpose here is to make a curved and visible line so that your neck does not look like a mess because if your neck is clean and groomed, your beard will also look groomed.
The next step would be to trim all the hair below the point where we marked it to make our curvy line more visible.
Make sure that you clean out all the hair from your Adam's apple to the bottom of your neck as it enhances your neckline and makes it visible.
5.     Time For Sideburns
Now it is time to clean your sideburns, but the tricky part is that people often trim their actual beards while cleaning their sideburns.
So, make sure that you have a very steady hand before you go for trimming the sideburns.
There are two different parts in trimming your sideburns, the inner and outer ones. Trim the outer sideburns carefully.
Then come to the inner ones, and don't lose your rhythm while using the trimmer because even a slight stutter in your trimmer can spoil your beard for good.
Barbers pay special attention to sideburns, and that is why, when you come back from the barber, your beard looks so fresh and well-groomed.
You don't usually get the same results when shaping your beard at home, and that is because most people just neglect the sideburns even though they are significant for beard shape.
You can clean them just the way you want, and if you like to grow your sideburns, it is completely your choice.
But, if you are not into it, then make sure to clean both inner and outer sideburns carefully to groom your face like never before.
6.     Trim The Cheek Line
The cheek line is the most visible part of your beard, and it can make or break your personality, so you would never want anything to go wrong with your cheek line.
The style of your cheek line completely depends upon what beard shape you are going for and what is the shape of your face.
But, the main purpose of cheek lines is to connect your sideburns to your mustache in a way that they don't look like two different parts.
Usually, a good check line is a little curved from above, and then it is in a steeping position near the mustache.
You can go for whatever cheek line you want to but use the trimmer carefully on your cheek line.
The line should be very clear and visible so that your beard looks well-groomed and clean; otherwise, it would seem all over the place.
Once you are done with the cheek line, remove all the hair above the cheek line with your trimmer.
For removing these hairs, you can use the same technique that we used to remove the hair from the neckline; just the slow and steady upward motion of your trimmer would do the deed.
7.     Set The Moustache Up
If you have a mustache, then you gotta keep that in shape as well; otherwise, it will spoil the whole look of your beard.
The style of your mustache completely depends upon you and if you are a beginner, just go for the style that you think is the easiest one for you.
It is really important to trim that hair below your nose because once they grow at a certain level, they start looking gross.
You can make your mustache as neat as you want. Some people even like thin mustaches, so just trim the upper lips a bit and sides as well if you are into it.
Also, don't forget to comb your mustache before actually going in with the trimmer, and it is also crucial that you have a steady hand while trimming the mustache.
That is because of one tiny mistake, and you would have to chop off the whole mustache so, it is better to just be cautious.
You can give shape to your mustache by cleaning the upper sides as well. They can make your mustache seem messy.
Once you have decided that whether you are going for a shorter or longer mustache, just use the trimmer on the upper left and right sides of your mustache to make it stand out.
8.     Some Final Touches
It is the last step of shaping your beard at home, and in this step, you need to figure out the length of your beard.
As your beard is all clean and groomed now, you need to cut the beard, so, first, you need to decide whether you want a short beard or a longer beard.
It also depends upon the shape of your face. For example, people with round faces usually look good with longer beards.
Once you decide the length, it is your choice whether you want to use a trimming comb or don't need it.
It is better to use a trimming comb as it helps the beard stay in place while you cut it, and it also guides you on how much you are supposed to cut.
For a cleaner trim of your beard, make sure to remember the technique that I taught you in the neckline part; flat surface and upward motion, remember?
Now, cut your beard and keep it whatever length you want because obviously, the length of your beard has to be your own choice.
That is pretty much it.
Tips For Shaping Beard At Home
Now you know all about shaping your beard, and I am sure that you would nail your first beard shaping session at home.
But, I want to give you a few tips that will help you loads when you are going for beard shaping so, let's get right into our tips.
Sculpt Your Beard
When you are shaping your beard at home, trim it often so you don't have to do all the work together because a trimmed and clean beard would just need a few touch-ups. If you have a thicker beard, you may find that you are more sculpting a beard shape, rather than trimming it.
A clean beard is a groomed beard so, make sure that your beard is perfectly clean and trimmed to leave a good impression on people.
For this purpose, you would have to give a good trim to your beard once in a while so that you can get rid of the bushy hair completely.
If you want to keep your beard long, then you can still keep it clean by just trimming the dry and brittle ends.
This way, you won't have to shorten your long and luxurious beard, and it will also look clean. So, make sure to give your beard some occasional trims to keep it in shape.
Keep It Clean
Having a clean beard is a very important part of the beard care routine so, make sure you wash your beard properly with products made specifically for beard.
When your beard is squeaky clean, it reduces the build-up and dandruff, making it easy for you to shape your beard.
Also, a cleaner and well-sorted beard can be shaped up pretty quickly as compared to messy and dry beards.
Having a clean beard also improves your beard growth rate and makes your beard healthy.
And as we all know, healthier beards can be shaped just the way you want because there are so many options available.
Apply Shampoo And Conditioner On Trimming Day
Don't forget to give your beard a good wash with specialized shampoo on the trimming day, so it is all nice and clean.
End it with applying moisturizer or conditioner on your beard because your beard needs hydration for proper styling and growth.
Also, applying shampoo and conditioner on the trimming day makes it easier for you to trim the beard because your beard is soft and smoother. If you have a clean beard, with the use of conditioner, you'll find that it's much easier to find those stray hairs and trim them away.
Also, smoother beards don't resist, and trimmer works like a knife on butter on smooth beards, but drier beards are a big hassle for trimmers as well. (Pro-tip, make sure your trimmer is oiled up as well!)
So, after you have taken a shower, make sure to top it off with either a good quality moisturizer or a conditioner to lock in all the moisture.
Don't Forget To Comb
Combing is one of the most important parts of your beard care routine, and it also helps you a lot on your trimming day.
The comb or more specifically the brush makes your beard a little tamer and also reduces the brittle and dryness in your beard.
However, combs also help with keeping your beard in perfect shape so that you can easily use your trimmer without wandering here and there.
Using a comb or brush regularly can also make your beard tamer, and then you can style it just the way you want.
Top It Off With Beard Oil
Once you are done with shaping your beard, top it all off with some beard oil. The goodness of beard oil would do its magic, and you are going to love the results.
Your skin tends to be dry after using the trimmer, and applying beard oil will make it hydrated and moisturized.
Beard oil can also help you style your beard after you have given it the shape you want because beard oils tend to make your hair a little flexible with styles.
Conclusion
So, now that you finally know the ABC of shaping your beard at home, what are you waiting for? Get your hands on a trimmer and give it a go.
You may mess up for the first time, but if you follow all the steps properly, you will get the beard that you always wanted.
Also, don't forget your beard care routine, and make sure to exfoliate weekly to get rid of the ingrown hair that might affect the shaping of your beard.
Wishing you all the luck for your beard shaping day!
Amazon and the Amazon logo are trademarks of Amazon.com, Inc, or its affiliates.