Turbobeard.com is supported by its readers. When you purchase through links on our site, we may earn an affiliate commission. Also, as an Amazon affiliate, we earn from qualifying purchases.
Two years back, I was going through a rough patch in my life because of my patchy beard. No matter what I tried, I was never able to get the beard that I wanted.
Then, I started researching for the sake of my beard and came across Derma rollers. And honestly, I never looked back since.
As a general rule, derma rollers are used for micro-needling. They help by stimulating the hair follicles of your face and assist in beard growth. I have been using derma rollers for quite a while now and have tried some of the finest ones available out there.
So, today I am bringing some of the best derma rollers that I have ever used, so you don't have to go through the same hassle as I did.
But before we dive into my recommendations, you need to know what to look for when buying a derma roller so, let's get right into it.
Buying Guide For Derma Rollers
Buying a derma roller is a tricky thing, and if you don't pay attention to the small details, you will be less likely to get your desired results.
That is why you must analyze every feature of these rollers and save yourself from any future trouble.
Material matters
When it comes to derma rollers, the material of the needle is very important. The needle obviously will penetrate your skin, so make sure you are not compromising with it.
Usually, you will get 2 options in the material of your needle. The first one would be stainless steel, and the second one would be titanium.
Stainless steel is a good choice, though, and is comparatively cheaper, but it will not last long, and you will have to change the needles more often.
Titanium is a better choice when you are going for a long-term derma rolling experience because it works well, and you don't have to change it again and again.
Though titanium is expensive than stainless steel needles, the results are worth it, and there is a huge difference between the quality of both needles.
The Amount of Needles
You need to decide how many needles you would want to go for according to your skin type and skin history.
People who are new to derma rolling quickly assume that the more the needles, the quicker the results, but they certainly are mistaken.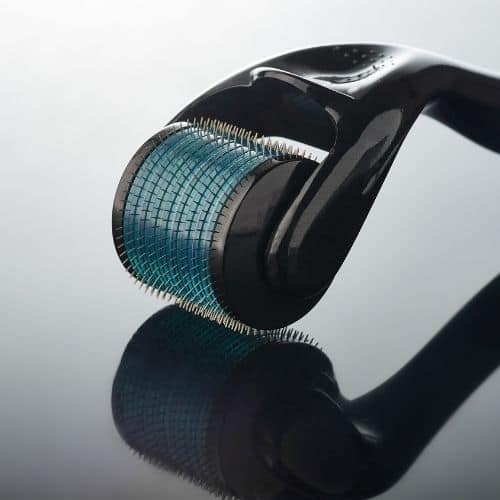 Most of the time, you don't need to use tons of needles on your face to see the results because the lesser, the safer.
Beginners in derma rolling should always go for fewer needles because they don't drag the skin and are far safer to use.
You can pick a derma roller with a greater number of needles if you have a history of derma rolling. You would have the option of choosing between 192-540 needles.
Mind the price
You should always pay attention to the price of any derma roller you are buying because if it is not in your budget, then why even bother?
Usually, high-end brands offer expensive derma rollers, and you could get the same functions from a cheaper derma roller.
So, if you are a little tight on budget, there are some really good options of high-end dupes that you can go for.
But, if you don't mind spending a little more money on your derma roller, then I would suggest you get the ones with high quality. The ones that are on the more pricey side, tend to have more long-lasting materials.
Derma rollers are in close contact with your skin, so you mustn't prioritize money and instead go for the quality.
Size Of Needle
You should also look for the size of the needle and what size you would want because all of them have different stimulation capacities.
If you just want to increase blood circulation in the beard area, then 0.25mm is ideal for you as it stays on the surface of your skin and does not go deeper.
If you are looking for longer-lasting results and beard growth, then 0.5-0.75mm needles are the right pick.
The longer needles have a little more penetration capacity and can reach your hair follicles in a better way.
They can stimulate your hair follicles and improve collagen production in your beard area, so it is better to get the one with 0.5-0.75mm needles.
Top 8 Derma Rollers Of 2021-22
Now that you have all the tricks to shop for derma rollers up, be ready because we are going into the ocean of some of the finest derma rollers in the market.
It is just the right spot for you if a healthy and thick beard is your ultimate goal. The Yoobeaul derma roller is specifically designed to promote your beard growth.
The needles of this derma roller are made with high-quality titanium, which means it will last much longer than you would expect, making it a one-time investment.
The derma roller is not harsh on the skin and stimulates follicles very gently, making it the ideal pick for beginners.
The needle of this derma roller is 0.25mm, which is the safest and most gentle needle, perfect for people who are trying derma rolling for the first time.
When I used this derma roller, I did not feel any pain because of its painless technology, and the results are no less than a high-end derma roller so, go for it.
Pros
Gentle on the skin
Safe to use
Painless
Gives a thicker beard
Cons
Penetration of needles is not deep enough
The grip can be a little better
The Linduray derma roller is one of the very few things that you can do for your beard, and you will love how your beard will turn out to be.
It is really easy to use, and you don't have to put a lot of pressure on your face to get the results you want for your beard.
If you use this derma roller with consistency, your beard will become thicker with time, and you will also notice an increased growth in your beard.
It is an affordable option if you want a product that does not cost you an arm and a leg and yet serves its purpose.
Micro-needling with this derma roller is painless, and if you are a beginner, it also comes with 3 E-books that can help you use derma rollers.
Pros
Easy to use
Comes with e-books
Affordable
Painless usage
Cons
Can cause slight redness after usage
Needles are a bit shorter
9Oine derma roller looks aesthetic, and when it comes to performance, it does what it claims, which is why I am a big fan of this derma roller.
It is just the right pick if you want to kick-start the growth of your beard. It makes your beard grow much faster if you use it with consistency.
This makes your skin healthier and radiant, and when you have healthy skin, your beard will also grow out to be healthy and thicker.
This 9Oine derma roller contains titanium needles and is environmental-friendly, so it is the perfect one if you are looking for a good quality roller.
The size of needles in this derma roller is 0.5mm, which gives you a pretty good penetration as the 0.5mm needles reach the hair follicles pretty easily.
Pros
Promotes thicker beard growth
A needle of 0.5mm
Faster results
Environment-friendly
Cons
It might cause redness and irritation for beginners
Slightly painful
This derma roller comes with 540 needles that are made of high-quality titanium, which makes this roller a perfect fit for beginners.
It is safe to use as it comes with 0.25mm needles which is the recommended needle length for people who are just starting with micro-needling.
The Rosely derma roller does not cause a lot of pain while using, and it is really easy to use because of its comfortable grip and design.
It delivers faster results and makes your beard stronger and healthier within a few weeks if you use this derma roller consistently.
It saves you a lot of bucks as you don't have to go for expensive salon sessions of micro-needling, and you get the tool at your house at a very affordable rate.
Pros
Suitable for beginners
Painless
Perfect design
Affordable
Cons
Does not come with a cleaning manual
Needles are too short for some people
It is one of the most aesthetic and stylish derma rollers I have ever used, and I still use it because of how amazingly it works.
It also comes with 0.25mm needles that are highly suitable for people who don't know much about micro-needling and are looking for a safer option.
GLDN derma roller is also painless, and it will stimulate the blood circulation in your beard area, which will result in beard growth eventually.
It is known to effectively grow a beard on the patchy areas of your face, and it has 540 needles made from some of the finest titanium in the market.
The derma roller comes with a warranty and is made specifically for beginners and for people who want to grow their beards but don't want to put a lot of pressure on their skin.
Pros
Looks really stylish
Safe to use
Promotes beard growth on patchy areas
540 Titanium needles
…Did I mention it looks really good?
Cons
May cause itchiness after use
Can cause initial redness
It is one of the finest derma rollers you will ever come across because of its efficiency and convenience to use.
It helps stimulate the facial hair follicles and helps in increasing the production of collagen, which can instantly affect the rate of your beard growth.
The 0.25mm needle is specifically designed to reach the collagen in your skin and increase its production so that your hair becomes healthier and thicker.
The needles of this derma roller are made with titanium that is the best material for any roller as it lasts longer and is much more effective than any other derma roller.
The Naland derma roller uses environment-friendly materials and is completely safe to use for beginners. It also is painless, so you don't have to be afraid anymore.
Pros
Convenient to use
Stimulates hair follicles
Does not cause a lot of pain
Environment-friendly
Comes with a good kit!
Cons
Not suitable for sensitive skin
Expensive as compared to other products
The koi beauty derma roller is the only thing you need if you want a luxurious beard. It comes with 540 needles that are made of titanium.
These needles are efficient in stimulating blood circulation in your beard area and promoting collagen production in your skin.
It has an ergonomic grip which makes it much easier to use than any other derma rollers available out there. Also, it is convenient to clean and saves a lot of time.
If you use this derma roller with consistency, you will most certainly see the results, and it also comes with a manual that can guide you through the way.
For people who are doing micro-needling at home, 0.25mm needles are usually recommended, and this derma roller comes with different options in needles so you can pick the right one for you. 
Pros
Made of high-quality material
Increases the collagen production if used consistently
Comes with a manual for beginners
0.25mm needles that are safe to use
Cons
It can be a little painful for some people
0.5mm needles can be irritating and can cause redness
This derma roller by Thappink makes it easier for you to do micro-needling because of its improved grip and ergonomic design.
It is convenient and easy to use as well, and it saves you from the hassle of constantly rolling because it does not require a lot of time for working.
If you use this derma roller with consistency every week, you will get an increased collagen level which is good for the health and thickness of your facial hair.
The needles used in this derma roller are 1.5mm that can reach your skin deeply and yet are not harmful to your face so, this derma roller puts you in a win-win situation.
It is lightweight, and you can carry it in your travel bag easily. Also, it can help you get rid of that patchy beard, so you need to get your hands on this amazing device right away.
Pros
Easy to use
Ergonomic design with a comfortable grip
Induces the production of collagen
Helps with a patchy beard and increases beard growth
Cons
Slightly overpriced
The storage bag is of cheap quality
FAQs
Q.1: Is micro-needling safe for my face?
Ans: Micro-needling is completely safe, and it works well in solving most skin problems.
Moreover, it also helps with increasing the growth of facial and scalp hair. It is an effective treatment if used properly.
But, micro-needling is not for everyone and if you have active acne or acne-prone skin, then refrain from using derma rollers at home.
Cleaning your derma roller properly, sterilizing it, and keeping it in a clean place is also really important because it comes in contact with your skin, and if it is not clean, you can get a lot of reactions like pigmentation or acne.
Q.2: Can I use derma rollers every week?
Ans: First of all, you should talk to your doctor because the usage of derma rollers completely depends upon your skin type.
You should not use derma rollers every week because it is a very intricate procedure and frequent micro-needling has its side effects.
You can start by using your derma roller once every month if you are a beginner and then make your way up to twice every month and see how your skin reacts to it.
Q.3: Is using derma rollers at home effective for my beard?
Ans: Doing micro-needling at home is not only effective but cheaper as well. You can get a good-quality derma roller, and it will do the deed for you.
Derma rollers help stimulate blood circulation and improve collagen production, which directly affects the health and growth of your beard.
So, yes, you can get rid of patchy beard and baldness if you remain consistent with micro-needling.
Q.4: How much time micro-needling takes to improve beard growth?
Typically, micro-needling shows its effects after usage of 10-12 weeks, but you can see the results much sooner as well.
If you have bald patches in your beard, micro-needling will take at least 90 days to work, and you will start noticing the results.
Conclusion
Getting the beard of your dreams is not always easy, and you need to put a lot of effort into it but, micro-needling has made things a lot easier for you now.
You can just get a good-quality derma roller and roll your way through the thick and luxurious beard that you always wanted.
But, make sure to be a little cautious when using a derma roller and don't put a lot of pressure on it as it can rupture your tissues and can cause hyperpigmentation.
Wishing you the best of luck on your micro-needling day!
Amazon and the Amazon logo are trademarks of Amazon.com, Inc, or its affiliates.