Turbobeard.com is supported by its readers. When you purchase through links on our site, we may earn an affiliate commission. Also, as an Amazon affiliate, we earn from qualifying purchases.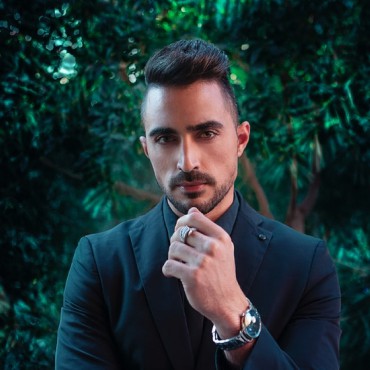 If you don't have a run-of-the-mill- personality, you'll always be looking to improve your appearance whether it's hair, your outfits, or your beard. This is when the Van Dyke beard comes into play. A Van Dyke beard can garner a lot of attention because it enhances your facial features. If you're after an elongated chin, Van Dyke beard might be your best bet.
So, if you're on a quest of changing up your look and trying a brand-new beard style, here's everything you should know on how to make a Van Dyke beard.
What is the Van Dyke beard?
You can enter the Van dyke beard club by growing a mustache and a goatee with the rest of the facial hair shaved.
Named after the 17th-century Flemish painter Anthony Van Dyck, this facial hairstyle is trending like never before. Throughout history, many notable figures like King Charles I of England have worn this style. In contemporary times, celebrities are sporting the Van Dyke beard including Brad Pitt, Robert Downey Jr, Leonardo DiCaprio, and Ryan Gosling.
The separation of the mustache and the chin hair is the unique feature that gives the Van Dyke look its original appearance. This prevents your beard from being one of the same other circular beards out there. Not to mention, this is the same reason that makes the Van Dyke beard outstanding from the standard Goatee.
Is it attractive?
When you decide to have one of the famous beards like this one, right off the bat, thoughts like being too extra or old looking among your friends, might have crossed your mind. Long story short, Van Dyke beard has its own mysterious appeal to it and not everybody can pull off one. So, if you have decided to get it, you're special.
A Van Dyke beard can accentuate your whole facial structure. You can create the illusion of a square jaw, a pointed chin, and more prominent cheekbones.
So, yes, it is one of the best beard styles out there.
How to make a Van Dyke beard?
First things first. Get all your misconceptions about growing your beard and throw them away. Whether you have fast-growing facial hair or not you can achieve this look.
Grow a scruffy beard
The first step for a van dyke beard is growing a scruffy beard. However, you must decide whether you need a thick Van Dyke look or not. Either way, you should grow your facial hair at least for 2 to 3 weeks. When you have more facial hair on your face, beard styles look more prominent.
Decide what style you want
After you've decided to let the beard grow for a while, decide the van dyke style you're going to achieve. If you need a thick van dyke look, you may need more time to grow your beard. On the other hand, if you expect your beard to accentuate your chin, then keeping the facial hair a bit wider from the corners of your mouth is helpful. Think about your soul patch (in between the chin and the lower lip) too. Do you need it to be floating, connected or are you going to give this beard style your own twist with omitting the soul patch all together?
Comb it
Thoroughly comb through your facial hair before you start trimming it. Especially if you have curly facial hair, we all know that styling them is not the easiest thing in the world.
Make sure to keep your entire face dry if you're using an electric trimmer. If you're using a razor then keep in mind to use some clear shaving gel or shaving oil in order to keep the facial hair visible. However, using an electric trimmer is highly recommended.
Trim your mustasche
It's time for trimming away the facial hair between the mustache and the beard. The Van Dyke goatee's signature feature is this gap between the mustache and the hair on the sides of your jaw and chin.
Slowly trim this part making sure the gap is no more than an inch or a half-inch.
You might need to comb through your beard and mustache again and separate the ends of your mustache from your beard.
Don't forget to line up your chin hair because if that's not symmetrical you won't die, but still, it can get you through some tough times.
Work your way down
Now you have to cut a line from your mustache down to your jawline. Then extend the line down to your neckline. This might get tricky, so take your time.
When you trim the facial hair from both sides of your mouth like this, you'll end up with facial hair on your chin that extends halfway up to your mouth.
Clean up the sides
Assuming you have the Van Dyke beard by now, "hopefully", you should start cleaning up the sides of your mouth, cheeks, and the outer jawline.
Don't touch your soul patch!
If you need the authentic Van Dyke look, the rest of the face should be clean-shaven. However, if you want to transform it into a famous beard like Tony Stark's, then, by all means, you can try it out.
Create a fade or gap
If you need a clean fade from your mustache to your beard, (the gap) you may use the trimmer with a guard of no. 2 or no. 1. However, take your time with it, otherwise, you'll end up ruining your masterpiece.
Clean up!
Now clean your face and comb for perfection. Voilà! You've been officially Van Dyked!
Summing Up
The bottom line is, Van Dyke beard is one of the famous beard styles out there that actually work for any face type. It not only accentuates your facial features but supports you to get a more masculine and rugged look.
Some might worry whether they have the correct type of facial hair to pull off a  Van Dyke beard. The truth is, everybody's facial hair and beard growth rate is different. You should come to terms with the fact that some beards grow slow whereas some grow super fast.
The important thing is to have patience and let it grow at least a 1/4 inch to get started. If you're past your stubble, you're all set to have a Van Dyke goatee.
Or, if you want someone to show you how to, check this video from Rowan Row out!
So what's stopping you from trying out one of the famous beards like this?
Have you tried the Van Dyke beard? Let me know in the comments!
Amazon and the Amazon logo are trademarks of Amazon.com, Inc, or its affiliates.