Turbobeard.com is supported by its readers. When you purchase through links on our site, we may earn an affiliate commission. Also, as an Amazon affiliate, we earn from qualifying purchases.
I have very sensitive skin, and back in the day, I had a really bad case of ingrown hairs and a lot of razor burn. This in addition to having dry skin has led me to be wary of what kind of bread dye I use.
But now I do use one quite regularly, and did anything happen to my skin? Well, of course not because I was cautious.
Having a younger-looking beard is important for many guys, and to make it look younger, dyeing the beard can be a powerful option. As a general rule, a person with sensitive skin should use a dye that is free from all types of harmful chemicals so that it is safe for the skin. Also, not leaving the dye in for longer than the recommended time, will help you to minimize skin irritation.
Well, the story has just begun, so keep reading, and I will walk you through all the beard dyes that I use for my sensitive skin, but before that, let's know a little more about beard dyes and sensitive skin.
Should You Use Beard Dyes On Sensitive Skin?
Yes, you can certainly use a beard dye on sensitive skin, but it is not that simple because you cannot use any beard dye from the drug store.
Not all beard dyes are made to be used on every skin, and that is why most of them specify the skin type for which they are suitable.
You should not be using any beard dye that is not specifically made for sensitive skin because it can potentially damage your skin.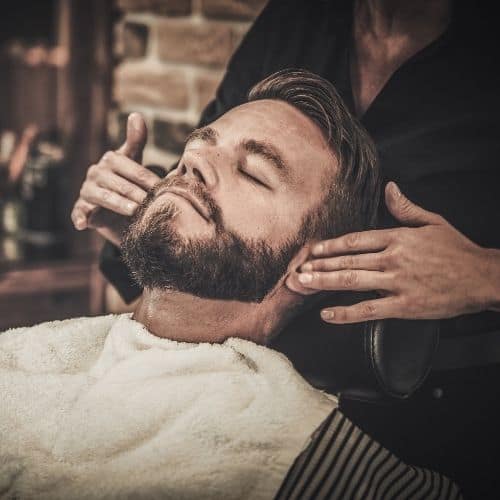 Use mild beard dyes, do not contain any harmful ingredients, and are good for your skin.
You can even go for organic ones because they usually are very gentle and provide just the right tint to your beard without damaging your skin.
Also, if the dye is scented or contains any type of ingredient that can trigger your sensitive skin, then it is a no-go area.
Do not go for a cheaper brand because it is about your skin, and make sure to go through the ingredient list a few times.
After you have ensured that the dye you are using is just the right one for your skin, then there is no harm in giving it a go.
A Guide To Buy The Perfect Beard Dye For Sensitive Skin
If you are confused and know nothing about dyes for sensitive skin, then don't worry because I have spent years in this quest.
I am going to walk you through all the things you need to consider and analyze while you are buying your beard dye because one good dye goes a long way.
So, let's dive in:
Hypoallergenic Dyes – Look For This!
When you have sensitive skin, the hypoallergenic label is going to be your best friend because the hypoallergenic products don't cause any irritation to sensitive skin.
A hypoallergenic dye is just the right pick for your sensitive skin, so you just need to find that label on the pack of your dye.
This type of dye is readily available in the market, and it will do nothing to make your skin angry. Rest assured, this type of dye will be just like a guilt-free trip to the youth.
Look for Easy-To-Apply Dye!
When it comes to beard dyes for sensitive skin, convenience has to be your priority because if a dye is not easy to apply, why are you even giving it a go.
Multiple dyes in the market are good enough for sensitive skin, but they have a foot-long manual, and I don't even read my work emails.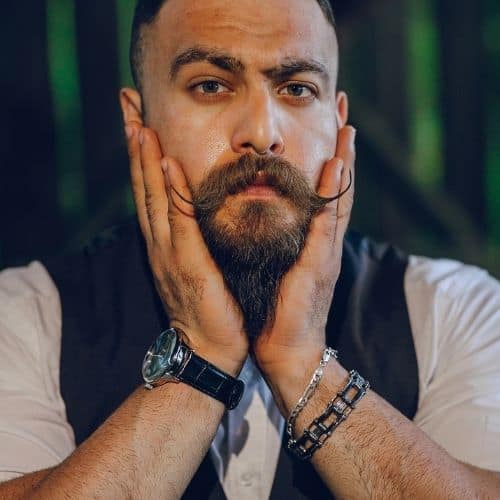 So, if you are a little lazy like me and want a little convenience, then buy a user-friendly dye that you can apply on the go without any hassle.
Keep an Eye On The Ingriedients
If you love your skin, you should never skip this part when buying a beard dye because ingredients are the thing that can make or break the overall look of your beard.
You need to choose the ingredients that are effective enough to tint your beard and gentle enough to treat your sensitive skin with love and care.
If any beard dye has harsh ingredients, don't even look at it because you are not supposed to buy it at all, no matter how good the results are, because nothing is worth more than your skin.
Keep it Stain-Free
Beard dyes mean staining and mess, but what if I tell you that you can buy dyes that don't stain your finger, face, and everything?
Yes, there are so many dyes available in the market that do not bleed, and you just have to look properly; you will find the right one.
The dyes that do not stain and tint your skin are great for sensitive skin because they are not staying on the skin for longer and who likes stained skin under the beard anyway?
Longevity – Long Lasting Results
If you invest in a good-quality beard dye, then make sure that it is worth it because you should not be dyeing your beard regularly with sensitive skin.
Certain beard dyes start fading after the first wash, and some even last less than two weeks, but no, we are not going for such dyes.
We need a long-term relationship with the beard dye, so go for the one that gives you long-lasting results and ideally lasts at least two to three months.
Pricing, Money Does Matter
Price is a very important factor when choosing the beard dye of your dreams because if it is not in your budget, then why even bother?
You must try to buy a high-quality beard dye for your sensitive skin, but that does not mean you drool over the high-end brands.
Certain brands are pocket-friendly and contain the same ingredients, and deliver the same results as the high-end ones.
Lastly, The Shade Of The Dye
The color of your beard says a lot about your personality and maturity level, so opting for sensible colors is the right way to go.
The perfect shades of beard dye usually are black and darker browns, and you should also consider getting them.
Such colors don't look fake or dyed and give a more natural feel to your beard, and that is exactly what we are aiming for here.
Top 7 Beard Dyes For Sensitive Skin
Now that you know how to do your beard dye shopping let me tell you the secret of my luxurious and perfectly colored beard; my top 7 beard dyes.
Well, these dyes are specifically made for people with sensitive skin, and I will walk you through each one of them and review them for you because I have been using them for years now.
So, excited? I know that I am!
This is one of the finest beard dyes that you can get out there because it perfectly masks your white and grey hair without affecting the health of your strands.
It gives a natural tint to your beard, so it does not look fake at all, and when I used to dye my beard with this dye, I did not have to worry about dying again for the next 2-3 months.
It is really easy to use, and you just have to shave the bottle, get the foamy solution, and massage a little on your beard. Make sure to wear gloves.
This beard and hair dye does not contain ammonia or any other harmful chemicals, which makes it pretty ideal for your sensitive skin.
It also comes with a dye booster that works wonders because it increases the effectiveness of the dye.
This hair dye is a whole package because it comes with everything you need for a Sunday afternoon dyeing routine, including a comb and wipes.
The color is not harsh on sensitive skin, and it contains 7 different shade ranges, so you can always mix and match or pick the one of your choosing.
Pros
No harmful ingredients
Easy to apply
Natural color
Does not bleed
Cons
Slightly expensive
Consistency can be improved
This beard color can help you get rid of all the grey hair in a matter of seconds. The application is so easy and perfectly convenient.
It comes with a mascara brush, so you have complete control over how much product you are applying to your beard, and you can even leave a few grey hairs for a salt and pepper look.
This hair color not only colors your beard and mustache but also fills the patchiness in your beard to give it a fuller look.
This beard color is hypoallergenic, so it is completely safe for people with sensitive skin, and you don't have to worry about any type of irritation.
The color typically lasts for about 8-10 days, but even if you see a few grey hairs in between, you can just cover it up with the mascara wand; it is that easy.
It does not make your hair look fake or colored at all; in fact, it gives them a fuller feel and a natural color that you always wanted.
Being a person with sensitive skin, odors and scents might also bother you and your skin, but this beard color does not contain any chemical odor so, it is safe for your sensitive skin.
Pros
Natural-looking hair
Easy application
Colors the roots easily
Gentle
Cons
Last for 10 days only
Bleeds sometimes
This beard dye has to be your holy grail because it is perfectly safe to be used on sensitive skin. It does not contain any harmful chemicals.
Also, it is natural, vegan, and cruelty-free; a lot of goodness in one beard dye, right? It is infused with henna extracts which give the natural tint to this hair dye.
This hair dye does not cause burns or irritation when applied to sensitive skin like most dyes do. Also, it does not itch, which is a big bonus!
It's not only a hair dye but a complete treatment for your beard as it clears out all the chemical build-up caused by the previous dyes.
It is suitable for all skin types and all beard types, but it is specifically recommended to people with sensitive skin because of its gentle and effective results.
It contains original henna, which is good for your beard as it will also help with thickness and growth.
Though the results with this dye take some time as it does not contain any chemicals to speed up the process, the results are just worth all the wait.
Pros
Free from chemicals
Natural ingredients
Repairs the hair
Gentle on sensitive skin
Cons
Take some time to work
You need to reapply it a few times to get the right tint
This color is one of the fastest working intense formulas that are completely suitable for sensitive skin.
It does not contain many chemicals and is infused with all the goodness of natural ingredients; hence, it does not make your sensitive skin go crazy.
It has several options when it comes to shades, so you can always find the right one for you from 8 different shades.
The dye usually lasts for about 6 weeks and does not fade or bleed like most beard dyes do, resulting in stained skin.
You don't even have to apply this dye for hours because it gets cured in 10 minutes, and then you can just wash it off.
It is not only good for your beard and mustache, but you can also use it on your eyelashes and brows; yes, it is that safe so, rest assured.
Even if you get any spots on your skin, this dye comes with a remover that can help you, so say goodbye to stained skin.
Pros
It does not contain harmful chemicals
Does not bleed
Quick process
It comes in multiple shades
Cons
The application process is lengthy
It does not contain a developer
The biggest flex of grizzly beard dye is that it is 100% organic which means it is free from all types of harmful chemicals.
The natural ingredients present in this hair dye make it completely safe and beneficial for your sensitive skin, so don't think twice before adding this dye to your buying list.
It contains different natural ingredients, but my favorite ones are henna and herbal powder of neem tree.
Both these things are known to boost the growth of your beard, fill out the patches and improve the thickness of the beard, so; this dye is not only grooming but also a complete treatment.
The tint that you get from this hair dye is naturally brown and blackish, so it will most certainly match the color of your natural beard and will not look weird.
This beard dye is also hypoallergenic, which means you don't have to worry about your skin acting up or getting irritated because of this dye because it won't.
The cherry on top is that this beard dye is vegan and cruelty-free, and I rarely see such genuinely ethical products so, I gave it a go immediately, and the results were worth it.
Pros
Hypoallergenic
Contains natural herbs
Free from chemicals
Vegan
Cons
It takes a few applications to get the right color
It has a strong organic scent
The Zenia powder is one of the best ways to dye your beard naturally. It works just like henna and gives your hair a permanent and intense tint.
You are supposed to use it with herbs or henna to make it more effective because it does not work as well alone.
It is free from all types of additives and harmful ingredients and does not damage your sensitive skin, which most beard dyes do.
It does not even contain ammonia which means it is a green signal for your sensitive beard. The application is also pretty hassle-free.
This beard dye is suitable for all types of beards, either patchy or thick, and it will treat your skin just the way it deserves.
You can apply this dye even on the roots as it is really easy to reach your roots with this dye, and it does not even cause any hassle.
It not only tints the hair but also moisturizes and hydrates your beard, so if you want a healthier and shiny-looking beard, then this powder is just the right pick for you.
Pros
Moisturizing qualities
It can be applied from roots to tips
Free from ammonia
Suitable for all hair types
Cons
It cannot be used alone
Requires time for application
This beard dye is going to be your savior if you want a dye with easy application. You don't have to mix anything in this dye, and it is ready to apply right out of the box.
It is free from all types of mess and does not require any type of developers or mixing at all. Also, it is suitable for all types of hair.
This beard dye has it all for sensitive skin because it does not irritate your skin or make it itch because of its gentle nature.
The ingredients added to this dye are of high quality, ensuring maximum tint in a shorter time than the dyes you get locally.
The color of this beard dye can last for about 6 weeks, and it does not start fading right after the first wash so, you don't have to worry about bleeding and fading.
The formula of this beard dye is foam, and it does not even feel heavy or chemical-like on your beard because of its lightweight nature.
It comes in different shades, so you can always mix and match or find just the right shade of brown for your beard because it is that easy.
Pros
Easiest application
It comes in different colors
Premium ingredients
Long-lasting color
Cons
It takes time to work
It does not show any results in the initial 10-15 minutes
FAQs
Q: Can beard dyes damage my sensitive skin?
Ans: Yes, beard dyes that have harmful chemicals and ammonia in them have the potential to damage your skin.
If you have sensitive skin, you need to be particularly careful before using beard dyes because they can irritate the skin and even cause a reaction, and you would never want that.
Q: What color should I go for in my beard dye?
Ans: If you are going for a beard dye for sensitive skin, it is best to stay in brown shades.
Dark and light browns will make your beard color seem natural, and any other color would most certainly scream fakeness, and if you are going for that, then no issues.
Q: Are organic dyes suitable for sensitive skin?
Ans: Yes, organic dyes usually are free from all types of harmful components, and they are completely safe to use on your beard.
But, make sure to go through the ingredient list just to be double sure because you don't want any surprises when it comes to your sensitive skin.
Q: Are there any types of beard dyes?
Ans: Yes, there are different types of beard dyes, and it is completely up to you which one you are going for, but they are found in many different ways.
For instance, we have beard dye gels, foams, creams, and even the henna that dyes your beard, so; you can find any beard dye that suits your needs.
Conclusion
When looking for a beard dye for sensitive skin, you need to ensure that it does not contain any chemicals that can make your sensitive skin irritated.
So, finding the right type of hair dye can be a hassle at times, but I have reviewed some of the best hair dyes, which can be your go-to dyes always.
Make sure to go through the buying guide as well so that you understand exactly how to buy beard dyes for your sensitive skin.
Best of luck in your dye hunt, Adios!
Amazon and the Amazon logo are trademarks of Amazon.com, Inc, or its affiliates.