Turbobeard.com is supported by its readers. When you purchase through links on our site, we may earn an affiliate commission. Also, as an Amazon affiliate, we earn from qualifying purchases.
Trimming your own beard can turn into quite big of a nightmare if you don't know anything about the guards or which one to use while trimming your beard.
You must always keep a guard in your kit so you can trim those rough edges of your beard anytime you want.
The guards come in different sizes and colors, and choosing them is easy when you particularly know whether you want just a slight trim or a clean one.
If this is your first time using a guard, then you can use the one that comes with the kit. However, if you are looking to buy just one alone, then look for these factors when choosing them: Design. Precision and Ergonomics
But, the problem arises when most of the men don't exactly know the right size of guards and what their specific purposes are. For example, a 0 guard is typically used for a tight trim, while a 3 or 4 guard is perfect for a longer beard. The key is to find the right balance between too much and too little hair. Too much hair will make your beard look messy, while too little hair will make it appear thin and patchy.
That is why we are bringing this guide for you so you can choose just the right type of guard for your trimmer.
Let's get right into the good stuff:
What Are Trimmer Guards?
The comb-like structure that you usually see on trimmers is called beard guards, and most trimmers come with their own beard guards.
But, if your trimmer does not have a beard guard, don't worry because you can always get one from the market as they are readily available and have far better quality.
Guards are perfect help if you are new to the trimming business and haven't trimmed your hair before because they keep you from trimming the hair too much all at once.
There are different sizes of these guards as well, depending upon what type of trim you want to go for.
Trimmer guards are very important because they give you complete control over your trimming without the fear of cutting too much beard.
You can use beard guards not only for trimmers but also for beard clippers, so they give you a lot of options as well.
Beard guards are a perfect product if you want to keep your beard in mint condition without having to go to the salon.
That is because beard guards make things a lot easier for people by providing them ease of use and convenience.
What Is The Right Size Of Trimmer Guard For You?
Using beard guard is not that difficult but finding the right beard guard to trim your beard certainly is a big hassle.
The size of the guard you are choosing completely depends upon the length and thickness of your beard.
If you have a very patchy beard or just stubble and you want it to look a bit clean, then #0 or #1 type of guard would be perfect for you.
This guard does not cut too much beard and still manages to make you look tidy, and it is easier to use as well with its longer combs.
When talking about a slightly grown beard, #2 would be just right because you don't want to be too cruel on your newly grown beard.
#2 guard size will make sure that the beard gets perfectly clean and tidy without cutting too much hair, so it is just the right type of size for a grown beard.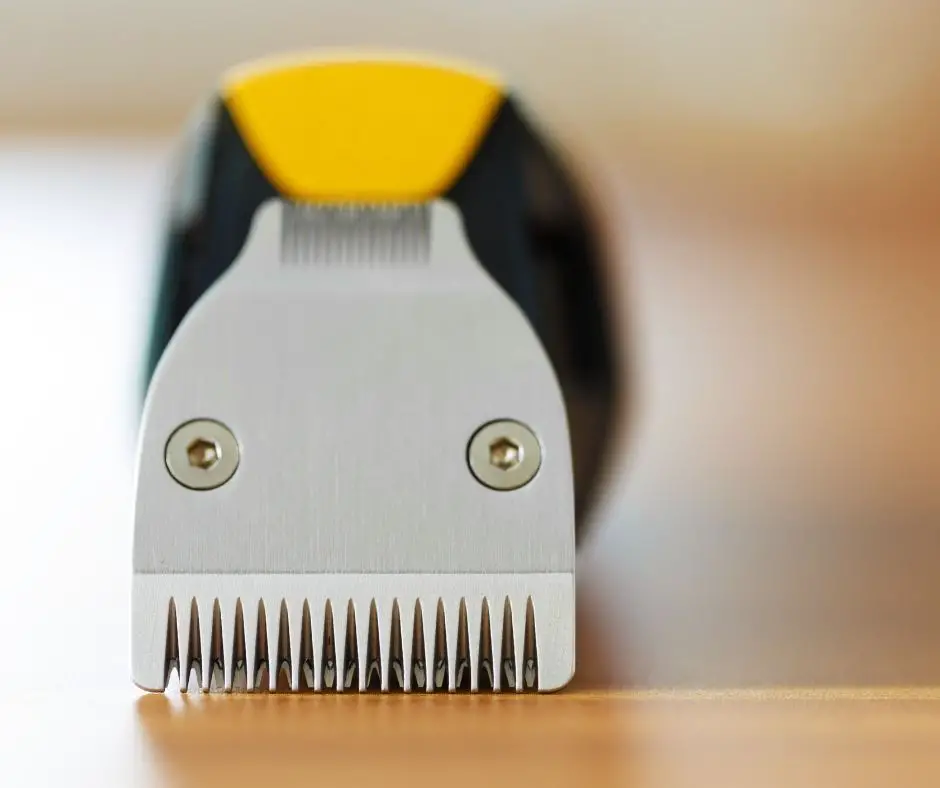 The next is when you have a regularly grown beard like most people; then you would need to use #3 or #4 size of guards.
Now, using #3 or #4 depends upon whether you want a slight trim to take the edges off or want to literally shorten your beard.
#4 is particularly great when you are dealing with a properly grown beard because its comb is shorter, and it trims very neatly.
Then we stumble across the #5 guard, which is perfect for longer beards because it trims your long hair without making them shorter.
If you are still unsure which beard guard will do the deed for you, just start from the highest number.
This way, you can make your way down to #4, #3, or even #2 if you are not satisfied with the trim.
But if you directly move to #2, you might cut your beard too short, and you certainly cannot regrow it.
How To Use A Trimmer Guard?
Using a beard guard is not that big of a hassle when you know exactly what to do and when you have all the knowledge about the right size of your guard.
Start by attaching the guard to your trim and turn on the switch so it can start. The next thing would be to place the trimmer in the right position on your face.
The guards are supposed to leave certain inches of beard, and their sizes are also determined by those inches.
So, if you have got a guard with #1 size, it will leave only 1 inch of hair, so you might want to start with a higher number.
The #1 size would be perfect for the neck area, so you can get it done at the start if you want and even define your jawline with the #1 guard.
Start trimming your beard to the opposite direction of growth and keep going up and down, and when you realize that the guard is not trimming the beard anymore, it is time to go low.
As you have started from a larger size, it will only trim the hair of a certain length, like 3-4 inches, and when they get shorter, you have to switch to a shorter guard too.
It is not that big of a deal because all you need to do is grab a #3 or #2 guard and again start trimming until you reach the point where you are completely satisfied with your beard.
If you have used the #1 guard but still want a shorter beard, you can take the guard off and use the trimmer directly on your beard, and it will make it shorter.
Why Should You Use Guards?
After all this information, you might think that beard guards are not really useful for your beard trimming, but if you really want to maintain your stubble or growing beard well, you need them.
So, do not wait around any longer, and go get yourself a guard ASAP!
We are listing some of the finest ones you can find out there, so make sure to keep reading:
Maintains Good Beard Length
If you want to make your beard look cleaner and trim it once in a while without making it too short, then a beard is just the right thing for you.
It not only gives you a lot of options for beard sizes that you want, but it is also suitable for all types of beards, let it be a fully grown one or just a stubble.
You do not fear cutting too much beard when you are using a beard guard as every size only cuts the hair of a certain length.
Easy To Use
Beard guards are very easy to use, especially for beginners who don't have a lot of experience in the trimming and shaving department.
If beginners used a trimmer without a beard guard, they would end up trimming their whole beard, and there is no going back.
So, it is better if you take the easier road and just use a beard guard not only because it is convenient but also because your beard actually needs a guard.
Comes With Options
It is not like beard guards only come with one default size because there are a lot more sizes available in guards that you even know.
You can either buy all of the sizes for your own ease or just one of them if you really know the exact beard length you want after trimming.
The diversity in sizes makes it easier for everyone to use these amazing trimming tools, and they are a great addition to your beard care regimen.
Best Trimmer Guards Available Online
Don't get confused because we will also help you choose just the right type of trimmer guard brand for you.
We are listing some of the finest ones you can find out there, so make sure to keep reading:
YINKE Clipper Guards Premium for Wahl Clippers Trimmers
Looking to get the perfect cut every time? Look no further than YINKE Clipper Guards Premium for Wahl Clippers Trimmers. Their high-quality guides are made of ABS and aluminum materials, with metal clamps for precise adjustment.
Plus, there are eight different sizes to choose from, so you can find the perfect fit for your needs. Installation is easy – simply snap them on and off – and they're also easy to clean. Keep your clippers in top condition with YINKE Clipper Guards Premium!
Wahl Color Pro Cordless Rechargeable Hair Clipper & Trimmer
The Wahl Color Pro Cordless is the perfect addition to your hair-clipping arsenal. Its rechargeable battery and cordless design let you clip your locks with ease, while the color-coded guide combs make it easy to find the right length every time. The blades are also removable and washable, making clean-up a breeze.
The Wahl Color Pro Cordless also is the perfect travel companion. With 60 minutes of run time, it's great for business trips, vacations, and more. And with worldwide voltage, you can use it no matter what country you're in.
Philips Norelco Multigroomer All-in-One Trimmer Series 3000
The Philips Norelco Multigroomer All-in-One is the ultimate grooming tool for men. With 13 attachments, it can handle all of your trimming and shaving needs.
The DualCut technology provides maximum precision, and the blades sharpen themselves as they work, so they remain razor-sharp for extended use. The detachable blades and guards are easy to rinse, making cleanup a breeze. Whether you have short hair, long hair, or a beard, this trimmer has you covered.
Conclusion
After reading this article, you may be wondering what guard to use for your beard. However, that is not as straightforward as it seems and there are many reasons why you should always use a beard guard.
You can maintain your desired beard length without cutting too much off by using a beard trimming tool like Wahl Color Pro Cordless Rechargeable Hair Clipper & Trimmer or Philips Norelco Multigroomer All-in-One Trimmer Series 3000 which come with different guards in their packages.
And if you want cleaner shaves and more options when trimming, make sure to invest in the best quality product available today!
Amazon and the Amazon logo are trademarks of Amazon.com, Inc, or its affiliates.